Hello my friends, this is my first post on this blog. Actually I made a blog many times and in the end it didn't work, the reason was classic, because of the hectic daily activities so that I became lazy to write. My old blog can also be accessed at https://jefryd.com (Update: the domain has been expired), the last article there was February 19, 2017.
Personal Branding
The reason I made this blog is I want to make a new personal branding. In the future, on this blog I will fill it with personal writing and tutorial. I also want to make a special section to save writings and videos of other people's work that I think are useful. The special rubric can later be accessed through / notes for writing and / video for videos.
Become Productive
The second reason is that my friends are more productive in sharing knowledge. Even though most of me have never met them directly, but the writing, the tutorials and even the videos they made are really cool. Some of my friends who really inspired me to be productive again in sharing knowledge is that Naufal Rabbani who first introduced me to many things related to software development life cycle.
Kang Garry Priambudi whose writings are amazing touches the heart. Kang Taufik Nurrahman with his Mecha CMS and blogger's web tutorial are very enlightening. Kang Irfan Maulana, Blend's frontend engineer who is very happy to share about the latest technology used at Blibli, to the point that he has his own official fanpage, Knowledge Sharing with Irfan Maulana.
Kang Agung Setiawan, software engineer Bukalapak with the book Vim for All and his homemade Ruby on Rails learning site, IDRails. Kang Daniar Heri Kurniawan, CERN Software Development Engineer with his writing that greatly adds insight into life in Europe. And there are many other professional figures.
New Technology
The next reason is I want to implement 2 new technologies that are very useful to increase the accessibility of blog readers. These technologies are Progressive Web Apps (PWA) and Accelerated Mobile Pages (AMP). Alhamdulillah, I have successfully applied these two technologies on this blog even though it is still not perfect. So, hopefully my friends are pleased to do a trial of the results of applying these two technologies on this blog.
To do the PWA trial, please open this page through the mobile version of Google Chrome. Then in the menu select add to home screen then select add. Then check the application list on the home screen, if successful there will be a new application with this blog logo icon. As for conducting AMP trials, please click on the following link, Hello World.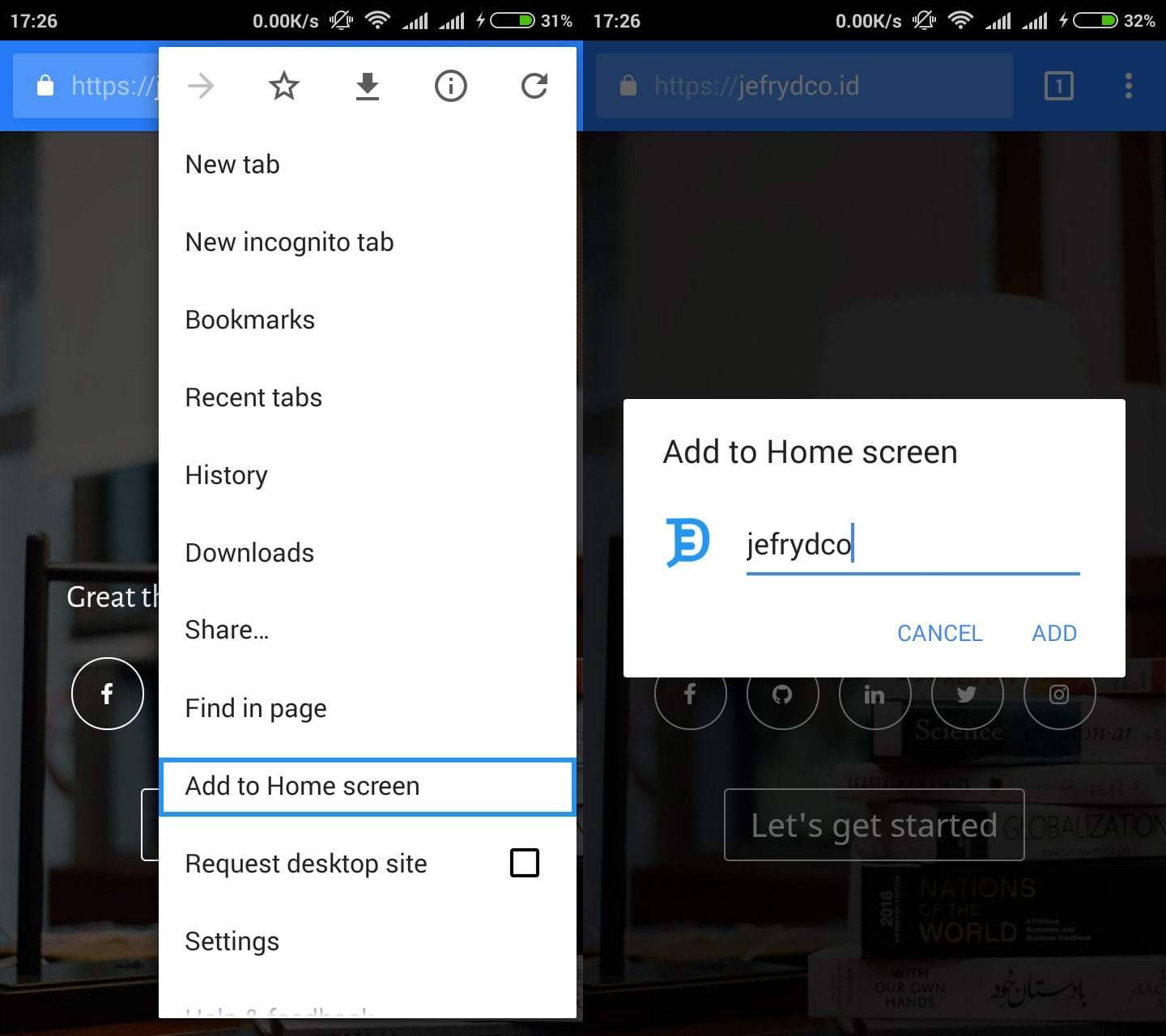 Rich in Features
The 4th reason is I don't want to depend on jQuery and Bootstrap. In my opinion, the two frameworks are too rich in features if used only to create a blog. So I decided to use Bulma instead. Bulma itself is a pure CSS framework without the slightest JavaScript support. One of the advantages of Bulma is that it was built using the concept of flexible boxes or flexbox.
Although Bulma is also arguably still rich in features, I work around it using Uncss. With that tool I can select which features I really need for this blog.
New Machine
And the last reason is that I want to use another Content Management System (CMS) for this blog. Old blogs use ExpressionEngine (EE), and in my opinion EE is quite powerful, especially if it is only used as an engine blog. After googling for a long time, finally I decided to use Craft as the engine of this blog. Actually the two CMSs are paid, but they also provide a free version.
It seems like the paid version both has features similar to the free version Craft has several advantages compared to the free version of EE. Some of them are free versions of Craft having fewer feature limits than the free EE version. Then Craft also has a larger community, making it easier for me to troubleshoot problems that I experienced when creating this blog.
And what I like most about Craft is the custom field feature. With this custom field, I can more freely build this blog content. In addition there is also a live preview feature, so that I can post and see the results firsthand.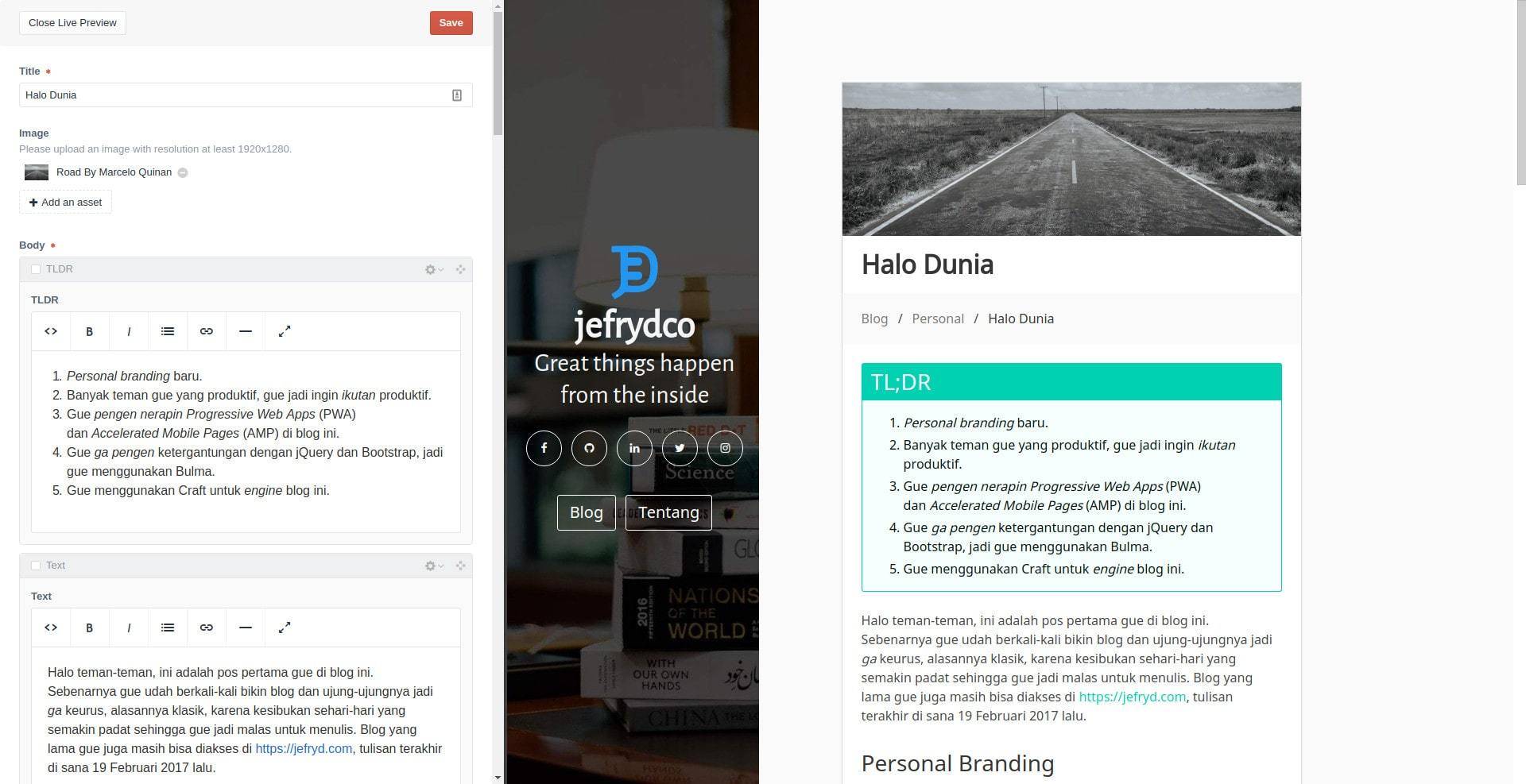 Some posts later I will discuss in more detail about the technology that I use on this blog. Hopefully with this blog, I will be more consistent in sharing my knowledge and friends more comfortable lingering on this blog.